"Again" (you might be saying) "with the 2004 San Diego Comic-Con. Wasn't that months ago?"
"Ah no, dear Readers," (I would respond) "the Comic-Con was exactly nine months ago."
"That's what we said" (you might say).
"On with the show" (I would say).
I spent most of my time at the 2004 San Diego Comic-Con in the exhibition hall investigating the world of independent comics, from a lone, starving artist Xeroxing at the local Kinkos to commune-style organizations of artists all from the same region, or even spread out across the world. These are their stories.
Bug Jar Comics
In general, I stayed away from anything that didn't have a physical form. I had to limit myself in some way, otherwise there'd be no end to what I'd want to review. There are just too many Web comics out there. Although some of what I'll be reviewing does mainly exist on the Web, there was still a comic-shaped physical object I could take away and study at my leisure for each of these strips.
That said, I'll begin with Comic Strips Unrelated (for the Most Part) to the Behavior of Fictional North American Birds. This is a small, photocopied collection of comics by Dave Bort. They are small comics somewhat in the absurd vein of The Far Side, though usually more than one panel (although there is a great one-panel comic that reads "Lava Monsters Do Not Have Gears!"). Another strip involves an insect trying to pick up another insect with cheesy pick-up lines (the female insect's response: "Our genitalia do not appear to be compatible.")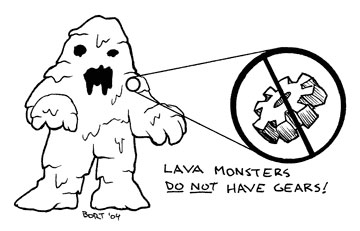 Although Bort wasn't the friendliest guy at the convention — probably because I kept bugging him for a free sample to review — I found his art hypnotic, philosophical, and often dark. His lines are clean overall, but the style used in individual strips varies, sometimes naturalistic (with birds and insects) and sometimes more cartoonish (usually when involving people). A lot of (for the most part) existential fun. Don't run from the oxymoron; instead, see if you can bug Bort into sending you a collection.
RevolutionSF Rating: 9/10
Exile from Kiirs
This comic by Amy Kim Ganter — one of the nicest comic artists I met at the Comic-Con — is a prequel for her Web comic, Reman Mythology. Exile is really a tangent from RM in both art and story. Both are influenced by anime, but Exile is much more cartoonish, perhaps because it focuses on a completely imaginary world whereas RM begins in the "real" world. The art is good in Exile, if not exactly to my taste. The story also seems to follow closely the tropes of anime fantasy, and regular fantasy for that matter. The only part that really stuck out at me was the cool design for flying mounts ridden by the ruler of the fantasy land and his entourage.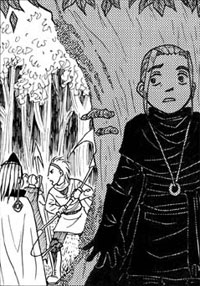 Overall, I was unimpressed. Which was sad, especially because I didn't want Ganter to be pissed at me; after all, she'd been so nice.
Then I took a look at her Web site and found that the style she chose for Exile for Kiirs is a lot different than that for Reman Mythology. RM is more realistic-looking, and the pages themselves are also more interesting, simply because they are calmer and she allows the image to tell much of the story. It's an interesting — and logical — choice to use different styles of art to tell different kinds of stories, even within the same "comic" universe, but I prefer the RM art and pacing.
Check out her site, see examples from both comics, and let her know what you think.
RevolutionSF Rating — Exile: 5/10
RevolutionSF Rating — Reman Mythology: 8/10
Terminal Press
I picked up two comics from the Terminal Press table: the first issues of Silent Assassin and Terminal Press Presents, a compilation of teasers from the whole of Terminal Press' comic stable, including Silent Assassin. The main focus of Terminal seems to be a world called Terminus, a stage for their three linked comics —Final Planet, Silent Assassin, and Blurin' Da Lines — and the last world left in our universe. Each of the teasers is intriguing, if oblique. If Silent Assassin is typical, the reason for this is that the teasers are literally the first couple of pages of each comic rather than original pieces specifically written as teasers. So while each is intriguing, it's hard to say whether I would want to spend money reading a whole comic based on the concept of, say, a scientist running away from something and then putting a cat-like creature on his face, or two fast-food workers taking off for the day.
The anthology is filled out with Crowpsey and Subway Fantasies. Crowpsey involves a main character with a crow jammed, headfirst, into his right eye. The art is deliberately absurd (as you might expect) but the story is too goth for me, and there's a lot of cursing. Subway Fantasies, on the other hand, is beautiful and strange. There's not enough in the anthology to give a sense of any sort of story, but the main character and the art draw you along. A girl rides a subway, writing in her journal about what she sees. It's simple, but it's enough. And apparently, according to a tag at the end of that section, the main character is simply insane.
A lot of these comics seem to be about the blurring of the line between reality and insanity, with heavy emphasis on the latter. The only full- length story that I read, Silent Assassin: Understanding Trauma, works well in that it plays insanity out into the world as a whole. The story follows the "silent assassin," a guy without a mouth, in his struggle to survive in the world after being abused for most of his life. His world is populated by mutants and strangenesses that the comic doesn't bother explained — which is a good thing, because it implies a world so big it can't be summed up with just a sentence. The art is interesting in terms of the world and character design, but I was somewhat annoyed by the computer-generated blurs of used for focus and motion.
In some ways, Terminal Press seems in love with its own darkness. Then again, maybe you're in love with that sort of darkness, too.
RevolutionSF Rating — Terminal Press Presents: 5/10
RevolutionSF Rating — Silent Assassin: 7/10
Styx Taxi
I am embarrassed by this comic. Not by the comic itself (or comics — there are two), but by my reaction to it. The comic itself is black and white and well-drawn (I keep saying that; maybe I should take some art lessons to work on expanding my sequential art vocabulary), although the artist changes with each story. Jeremy Arambulo for Styx Taxi: Pastrami for the Dead and Dan Goldman, Leland Purvis, and Rami Efal for Styx Taxi: A Little Twilight Music. The writer is Steven Goldman (except for one story in the anthology by Elizabeth Genco).
The basic plots are simple: People die and the Styx Taxi service picks up their spirits to allow them two hours to do something on earth before they move on. That's my main issue with the books: How can Goldman and crew keep this interesting? That's also my main frustration: Goldman and crew work the same theme throughout the books in such an honest and caring way that I'm moved, regardless of my intellectual qualms.

Pastrami for the Dead is easily my favorite story, and perhaps simply because it's longer and so gives the story room to breathe and grow. The story weaves together the lives of three of the Styx Taxi drivers (who are dead souls themselves working off sin) during one day. Stories pop up as accents to their unlives, and the end made me realize how easily Goldman and Arambulo had sucked me in to caring about their characters.
RevolutionSF Rating — Styx Taxi: Pastrami for the Dead: 9/10
RevolutionSF Rating — Styx Taxi: A Little Twilight Music: 7/10
God the Dyslexic Dog
Not only were these people nice (that's a running theme here, I know, but I guess when you're an independent comic producer you can't afford to alienate a prospective buyer . . . and by the way, the nicest people, except for Amy, were all from Canada. They didn't have to be nice; we weren't going to eat them.) but they had an entire pre-prepared press kit to give out to anyone from the press who asked.
God the Dyslexic Dog is written by the father and son team of Brian and Philip Phillipson. The art is done, cover and all, by Alex Niño, which explains the older look to his art. And by older, I mean classic, such as that you might see in the seventies, black and white but so busy that the color seems to jump onto the page.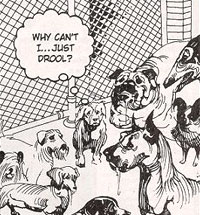 This comic has a very interesting style. Niño's old-school art adapts the Phillipsons' text, which itself seems as though it came out of the late seventies. However, that's a good thing in terms of standing out from the rest of the comics out there, especially if they can keep Niño on board.
The story involves all divine power being locked (I think) into a dog, after Bacchus locked all of the gods themselves into Pandora's box (back in the days when Pandora was less ancient myth and more current events). This comic serves mainly as an introduction to that odd world. Though, since it's part one of four, I really expected and desired more story. Only in the last two pages are we finally introduced to someone who may be the main character.
Still, this is a comic to get for the art alone, even if the story is just revving up. And if you don't get the comic, the Phillipsons might eat you. (They're not from Canada.)
RevolutionSF Rating: 7/10
Rorschach Press
I saw the Black Bastard and so I stopped to talk to the Black Bastard, but unfortunately no Black Bastard comics were available for distribution to the press corps, so instead I picked up this copy of Rorschach Press Presents. The Black Bastard himself was nice to a poor press person after I told him that I was offering publicity. Before that, he was . . . well, you know the comic. No? Well, I don't either, but trust me, he was something.
Rorschach Press Presents is a really cool idea for a comic, especially an independently-produced one. Basically, Matthew Mohammed, writer and creator, took four of his ideas on a test run, giving each a fourth of a comic to breathe in. The concept is that you, yes YOU, the reader, can choose what comic Rorschach Press will spend its time on; hopefully, since you the reader chose that comic, that time will be well spent.
These are four ideas: The Thousand Deaths of Max Dribble, which tells the story of a teenager who finds out he's heir to a vampire throne and only gets supernatural powers when he's killed; Superkiller, which involves a future world where people have had their innate talents, well, supered, which should make the title clear; The Psychopath, telling the story of suicidal Pamela Strickland and her adventures in a hellish Alice in Wonderland/Oz reality; and Godwatch, about people who have watches that stop time. Each comic also has a different artist that you are also supposed to vote on.
Out of all of these potential ideas, I find Superkiller the most interesting in terms of story, with The Psychopath a close second in plot, but more interesting in art. The Thousand Deaths of Max Dribble seems as though it would fall into superhero and vampire clichés (though there's not really enough story here to tell yet), while Godwatch is rehashing an idea popular at least since The Twilight Zone. Still, don't take my word for it. Check Mohammed and his work out yourself.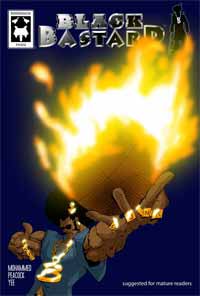 Note: The version of Superkiller that's available free on the Rorschach Press Web site is significantly different from the one in the anthology.
RevolutionSF Rating: 7/10
Jack the Lantern
This is the review I have been dreading. Again, writer/creator Michael Angelos is a nice guy (like Matthew Mohammed, he's from Canada), and I feel like an independent comic doesn't really need me to smack it around. It's hard enough to make it in the comics industry as it is. Still, I told him I'd review the comic, I was given the comic for free, and now I feel obligated.
That caveat out of the way, I need to start of by saying that, no, Jack the Lantern isn't horrible. The art by Tim Vigil is reminiscent of Alex Niño's, but less whimsical and free with form. It's grittier and more realistic, but also less affecting. That, partly, must be a result of the story itself. And realize, what I've got here is part five of a five-issue run, so I don't have the whole story. What I mean by story, however, is the plotting, pacing, and dialogue. We have the classic cliché of people fighting in deadly combat without being able to shut up, as well as the antagonist with the uncontrollable, deadly, but badly needed power. It's not as if these tropes, and the others that Angelos uses, can't be worked into a comic in a new way, but that doesn't seem to be the case here.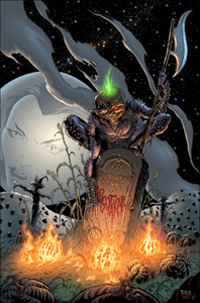 Finally, there's the title, which directly relates to the main hero's alter-ego, an extradimensional demon named both Argotakar and/or Izralwisp, and who has the head of a giant, flaming pumpkin. Again, something that I could conceivably see work, but not in this comic.
RevolutionSF Rating: 4/10
Take-Out #1-6
Finally, we have Take-Out, a collection of comic stories and one-pagers from the mind and life of Raina Telgemeier. Each of these small, zine-style comics (average 12 pages, with a (usually) single-color cover of some sort) takes moments from her life/past/dreams and displays them for you to read and enjoy. The art is very whimsical and spare, the few details used creating a convincing reality that draws as much upon your imagination and what you expect to be in the comic as it does on what Telgemeier actually shows you.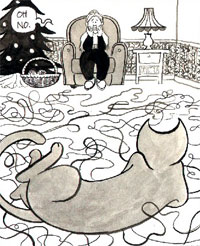 My favorites of the Take-Out series are #1 (probably because it was the first one I read) and #5, which is a visual journal of Telgemeier's trip to California to visit her parents. In some ways, her art reminds me of Art Spiegelman in its abstract but affecting representation of the real world, and her humor reminds me of Eddie Campbell's journal-entry drawings of his own life.
But, again, you don't have to take my word for it. Go to the Web site for samples, and then buy some comics. You'll have to. By then her Web-scanning spider robots will have all your contact info.
And she's not from Canada.
RevolutionSF Rating: 10/10
Oh, and some of you still might be saying, "Hey, this was cool and all, but it's still eight months late."
To you, I say, "The 2005 San Diego Comic-Con is only four months away. This is a message from the future." And then the John Carpenter music steps