Why is it that Battlestar Galactica, of all creatures, is the only straightforward science fiction show that's trying to be excellent TV? Oh, sure, Enterprise and Andromeda want good reviews and they sure want their share of the whiz-bang-loving audience, but nobody's ever accused those Star Trek wannabes of hiring writers who could make stories that stand up next to primetime drama.
Well, I already talked about Galactica, and I don't feel like talking about crappy shows, so it's time to take another angle. This time out we're looking at primetime hits that aren't sci-fi — or are they?
Definitely Not Sci-Fi: Lost
In the pilot episode of Lost, where the plane crashed on the tropical-except-for-the-polar-bears island, some unseen giant monster yanked the pilot up and tore him to bits.
Then, in recent episodes, the show's annoying kid proved himself to have some kind of psychic thing going on, turning a bunch of dice rolls his way and (in a flashback) apparently causing a dead bird to fly into his living room by drawing a picture of it.
Then there's Locke, the creepy guy who was wheelchair-bound before the crash "miraculously" healed him. He's been trying ever since to show off his jungle skills and come up with ways to help people realize their potential or face their fears or some damn thing.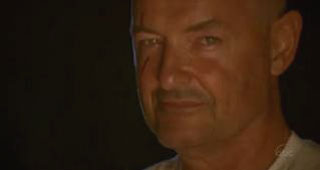 He wants to help.
Oh, and a bunch of people from Angel and Buffy the Vampire Slayer are on Lost after signing on with J.J. Abrams' production studio Bad Robot.
So that's all sci-fi-ish, but apparently the show's creators have said outright that it's all going to have real-world, non-supernatural answers. And if there's one thing you can count on, it's that TV people never change their minds.
Still, Lost is good and damn addictive TV. Don't fear the bandwagon.
Sorta Sci-Fi: Alias
More Buffy and Angel vets came to Alias, the other Bad Robot show. From the first episode the show has tracked a Renaissance inventor named Rambaldi who was designing transistors when that chump Da Vinci was still fooling around with hot air balloons. And a recent episode featured a drug that completely freeze-dried a guy in a matter of seconds so he shattered into chunks when shot. And robobabe Jennifer Garner is certainly too attractive to be truly human. So Alias definitely has some sci in its fi.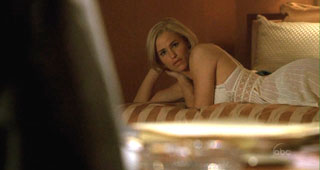 She — uh — sorry, I lost my train of thought.
But all that stuff is background and window dressing; Alias is above all a Hollywood espionage show. Take out the funny old Italian drawings and superdrugs and it would be just as good.
But the robobabe — she can stay.
Definitely Sci-Fi: 24
So you think 24 is just a suspense show, huh? Sure it is. Have you seen the look in the eyes of the Terrorist Soccer Mom? That is a cyborg bent on human destruction if I ever saw one.
Also, this season Kiefer Sutherland's Jack Bauer is a loose cannon bending and shattering the rules of government bureaucracy as he desperately tries to stop what may be the deadliest terrorist plot ever to face the United States.
See? It's got time travel, too. He's done the EXACT SAME THING for four years running. It's like Groundhog Day, if Bill Murray had to put a bullet in Andie McDowell's head every single day after it turned out she was the one who put the bomb in Groundhog One. Don't pick up that groundhog, Mr. President!
Also like Groundhog Day, 24 is still good, day after day. For some reason we just never get sick of seeing Kiefer Sutherland getting the living hell beaten out of him in between his shooting people in the head.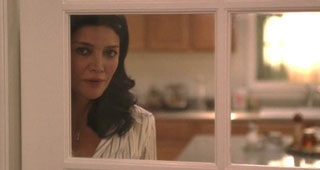 Evil! EEEEVIL!
So maybe all's not lost for good sci-fi on television, after all. We have Galactica, we have 24, we have Alias and Lost.
Of course, if you need more cheese and posturing and less good storytelling on your TV, don't worry. They'll never quit making all those Star Trek wannabes.