John Lucas's artwork has been described as a synthesis of Alex Toth and Jack Kirby combined with the attitude of Johnny Cash. Having toiled in relative obscurity for the past ten years, Lucas is now illustrating The Barker backup stories in Detective Comics.
John was nice enough to take time out of his busy schedule to sit down and chat with RevolutionSF's Rick Klaw.
RICK KLAW: What is the Barker?
JOHN LUCAS: The Barker was a golden age comic, featuring a cast of carnies who solve crime. The series replaced Uncle Sam in quality comic's national comics and ran for around 15 issues of its own title. Between both titles, it ran for some forty, fifty-odd issues.
What was Jack Cole's [Plastic Man creator] involvement with The Barker?
Beyond a few of the covers, I'm not sure if Cole had anything to do with it. As far as i know Klaus Nordling drew them all. Nordling, also, drew a big chunk of the Lady Luck adventures in the Spirit Sunday supplements. He's probably best known for that work, but The Barker is, in my opinion at least, much better. There are some episodes that I'd rank among the most beautiful comics stories ever created.

How's that for hyperbole?
Where did this idea to bring back the strip come from?
A collector friend, Don Mangus, was selling some of his collection off and I picked up all the copies he had. When I saw it I flipped. How can you not love carney folk solving crime? And as I said, they're just beautiful.

I had talked to a couple of writers about pitching it with me, but they flaked. after a few years of stops starts and unanswered emails, I had pretty much given up. But on one of my foraging trips to the DC offices, I told Michael Wright [Detective Comics editor] about it. He, being a man of above-average taste and intelligence, thought it sounded great. He told Bob Schreck [head honcho of all the Batman titles] about it, and Bob, being a man of above-average taste and intelligence, agreed. They suggested I e-mail Mike Carey, tell him what it was about, and see if he was interested. He, being a blahdy blah blah blah, said he'd love to do it. I suggested the idea of killing the dog-faced boy. He dropped and added a couple of characters. Then I sat back and waited for his purdy words to tell me what to draw.
Is this the first appearance of these characters since the original run?
As far as I know. you'd need to ask some one with a more complete knowledge of the funnies. I tend to obsess over specific artists rather than characters.
What is the fascination with carnivals and sideshow freaks?
Aw, jeez. I have no idea. I could probably spin off some half-baked observation on the human psyche, but who'd want to read it? It would probably be more revealing of my own damaged ego.

Maybe it's like loving an ugly dog or when you're walking through the woods and you're compelled to pick up a gnarled stick. I don't know.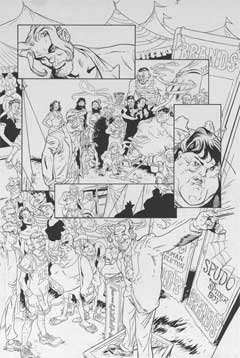 How does The Barker compare with HBO's Carnivale?
When I pitched it, I reminded Bob and the Mikes about the success of the show, but beyond that it didn't influence my approach any more than my already healthy fascination with period material. I'm one of those guys that thinks most things modern are kinda crap. And most of the modern stuff I like wears it's sense of history proudly, for all to see.

I like the show. I could do without the priest storyline. Does the world need another evil priest story? The carny characters are interesting enough to carry the show. And Adrian Barbeau as a tattooed snake charmer. Meeeeoooow!
What attracted you to this project?
It was different. My tastes tend to run to the absurd. It was a project that would allow me to draw a cast of grotesques. Much more fun than drawing pretty boys in their underwear wrasslin'.

Was there one particular aspect of this story that you enjoyed drawing than any other?

Just the odd characters. I got to draw an acromegalic giant, a dwarf, a tattooed lady contortionist, and a fat lady.
Is this your first work for DC?
No. I've been kickin' around DC for years. For the longest time, I was the guy they called to finish up the run of canceled comics. Disavowed. Man of Steel. Codename Knockout. All dead. I drew a Spartan one-shot that John Cassaday inked, [that is] laying in a drawer somewhere. I worked on the Starman 80-page giant and James [Robinson] ended the book a couple of years later. I guess that doesn't really count. It was a book that was successful, but the creator wanted to end it. But this is the first project I've done where I'm confident the book will still be around in ten to twenty years.
Are there other obscure Golden Age characters that you'd like to bring back?
Gosh. I'm sure. um. Granny Gumshoe?

I'd love to write and draw the golden age Green Lantern. I have, what I think and have been told, is a great way of handling him, as he now exists.

Airboy would be fun. All those characters that McFarlane now owns. Valkyrie. The Heap. I'd love to do something with that whole universe.
What is the dream John Lucas project?
I have two.

I want to write and draw the Golden Age Captain Marvel. I'd want to do it my way. If I was given the opportunity to work on it but was unable to have the freedom to take my angle on it, I'd say no. Otherwise, I'd feel as though I was doing more harm that good.

I have my own project, that I'll keep under my hat for the moment. I have it written and part of it drawn. I am very excited about it. When I get closer to having it finished, I'll beg you to do another interview. I actually have a few big-name comic artist friends who are going to contribute art, so it should get a bit of press. I hope.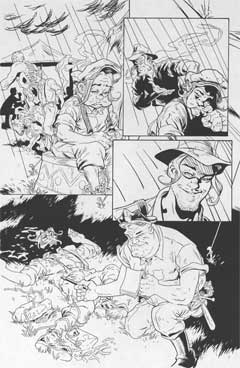 How would you describe your artwork?
Stranded. Alternative editors think it's too mainstream and the mainstream don't quite know what to do with it. It's a tough row to hoe, but if I can develop a following, I think it'll be a loyal one. All the artists I'm most influenced by are the kind of guys who put out a project, the die-hard fans buy it, then wait for the next scrap. Hopefully, I'll be able to follow that model.
What are you currently working on?
A few things. I just finished a story for the anthology Superior from Adhouse Books,. It's an anthology of, mostly, alternative artists' takes on superheroes. It's, sort of, a sequel to their anthology of robot stories, Project: Telstar.

I'm currently working on the covers and illustrations for three Joe Lansdale books. Subterranean Press is reissuing the first two Drive-In books and releasing the third as limited edition hardbacks in slipcases. Pretty fancy stuff. They're really great, really creepy books. Joe's a great guy and a hell of a writer, real salt of the earth. I've illustrated a couple of his comics stories and I've been eager to work with him again.

I'm working on a Batman, Legends of the Dark Knight arc, again with Mike Carey, but that's kind of in scheduling limbo at the moment. Hopefully we'll get to finish it. I'm as happy as a kitten in a tree about drawing bats.

And last but far from least, I'm about to start on a series of Army of Darkness comics. I've seen Evil Dead 2 about a million times. I love that character Ash, and Bruce Campbell cracks me up. I've never understood how that guy isn't bigger than he is.
What comics currently excite you?
Oh, man. My brain always freezes when I'm asked this.

Jack Staff by Paul Grist is pure genius. Every issue is a "how to" lesson on comics. His Kane series was great, too. I keep waiting for the promised graphic novels to continue the tale.

New Frontier by Darwyn Cooke. I read everything he does. Brilliant stuff. The guy really has a handle on the fun and charm of great old stuff and is able to smart it up for the modern audience without any awkwardness. he's so talented, he's really hard not to hate.

Wanted by Mark Millar and J.G. Jones. It's one of those post-modern deconstruction-of-the-comic-hero thingies, but I really dig it.

I'm reading Bone for the first time and it's fantastic. It's everything that smart, all-ages material can be.

I know there are more, but I can't think of them. I never tested well in school.
If you weren't an artist, what would you be doing?
I'd probably be working in a record or book store. That's what I did before I started making money drawing. I never planned or trained for anything else. Never wanted to do anything else. Even as a kid, when I wanted to play for the Yankees, I drew pictures of me playing for the Yankees.
John Lucas' work on The Barker can be seen starting in Detective Comics #801.