At DragonCon this year,
Firefly
actress Jewel "Kaylee" Staite was scheduled to be a guest, and maybe do a panel or appearance or two. Attendees got a special surprise, however, since both Nathan "Mal" Fillion and Adam "Jayne" Baldwin decided, unannounced, to keep her company at the con. All three of them appeared at a special
Firefly
panel, which was supposedly for promoting the upcoming
Serenity
movie but which ended up as an hour of touching anecdotes, hysterical banter, audience interaction, and cast practical jokes.
The panel got off to an odd start with a live performance of the Firefly opening theme, with one guy on acoustic guitar singing as another guy accompanied on the flute. I have no idea who they were, but they weren't anything spectacular. And as much as I like Firefly, I do have to admit that the theme really kinda sucks when performed live on acoustic instruments. It's like every lame folk song you've ever heard, only with spaceships.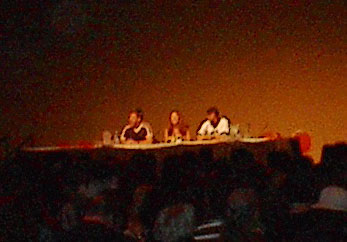 From left: Nathan Fillion, Jewel Staite,

and Adam Baldwin. No, really.
When the three guests finally took the stage, they began with an outpouring of gratitude for the fans whose support made the movie possible in the first place. Adam Baldwin thanked the fans for all their support, a very un-Jayne-like reaction, but one that was obviously heartfelt by the actor. Nathan Fillion also thanked the fans for letting him play Mal Reynolds yet again. He seemed to be as big of a Firefly fanboy as the people packed into that Atlanta hotel ballroom, saying "I love watchin' it, I love bein' in it, and I love shootin' people in the face."
The Bird
After that, it was Jewel Staite's turn to say a few words. However, what she had was a little different from what Nathan and Adam had. Before the panel started, Peter David (yes, THAT Peter David) had passed a paper from fan to fan in the audience, asking them to perform a certain gesture in unison at a prearranged signal. It seems that Nathan and Jewel had been having an ongoing bird-war, seeing who could flip off the other the most times. By the time of the beginning of the panel, Nathan was ahead in the game, thanks to a few judicious birds in the Firefly gag reels. When Jewel's turn to speak at the panel came, though, someone stood up, said something to the effect of "On behalf of Jewel Staite, the audience wishes to pay their respects to Nathan," and then the entire audience stood up and gave him the one-finger salute. With such a devastating coup de grace, the flip-off war came to a sudden conclusion with an undisputed victory for Jewel. Nathan himself could only respond, "You guys . . . you guys, that's f***ed up."
That set the tone for the whole panel. Adam, for instance, described how he hated how his character had to be on a ship with a "wimpy captain". Fortunately, things did settle down a bit during the question and answer session, though the humor level didn't decrease one whit. When asked what motivated the cast to take their roles, Adam responded with just one word: "Money". He also rattled off Jayne's speech about Vera, Jayne's favorite gun, and was ribbed a bit by Nathan for forgetting part of it. Nathan also shared his feelings about conventions in general, saying "There's nothing like walking into a room with a whole bunch of people who already like you."
Other questions were more serious, and were answered more seriously. When asked how difficult it was to reassemble the cast for the movie, Adam answered for everyone by saying "Joss just pushed the red button, and we all came running." When asked what the toughest part of the show was for her, Jewel said that it had to be the scenes with bounty hunter Jubal, in the episode "Objects in Space," though she did say that the actor playing Jubal was incredibly nice and kept apologizing to her after every take.
The most interesting question was what each cast member took after principal photography wrapped on the series. Adam said he kept Jayne's knitted hat, and wanted one of the Vera guns, but wasn't allowed to have one. Jewel kept some Alliance money and the cute girly Kaylee door sign. Nathan managed to snag a rubber replica of his gun and a holster for it, and the catalyzer for the Serenity.
Happy Birthday!
The panel wrapped up with a few amusing anecdotes and one hysterically touching moment. Nathan and Jewel talked about how Ron "Book" Glass would crack everyone up on set by constantly making fun of the costumes worn by Inara, saying things like "Hey, is the circus in town?" When asked what talk show he wanted to go on to promote the Firefly movie, Adam deadpanned "The View." And finally, one fan girl stood up, and said it was her birthday that day, and as present could the three cast members sing the Firefly theme for her.
So they did. In unison. And they were good.
Of all the things at the panel, that said the most about the show and why it's so successful. Not only are the fans completely and utterly devoted, but three of the main stars are willing to go to cons, sing the theme song for their fans, and have all the lyrics actually memorized!
With support like that from all sides, it's no surprise that Firefly has risen from the dead.