"Do you want to see it? The thing you've been chasing my ass all over the universe for? Torturing me, my wife, my friends? Do you want to see it?"
"Yes."
"Say please."
"Please."
"Pretty please."
"Pretty please."
"With a cherry on top."
"With a cherry on top."
"Happy birthday. Now get out of my sight."
-- Crichton gives his old nemesis Scorpius what he wants.
How long has it been since they axed Farscape? It seems like years -- wait, it has been years. The SCI-FI Channel announced the series' cancellation in September 2002, and the final episode aired in March 2003.
A year and a half later, we get to see how the story ends.
If you're new to the area, Farscape was a science fiction series that aired on the SCI-FI Channel for four seasons, from 1998 to 2003. Created by Rockne S. O'Bannon of Alien Nation fame, it was produced by the Jim Henson Company, which brought all its creative powers to bear in fashioning a distant galaxy of bizarre alien races constantly at each other's throats.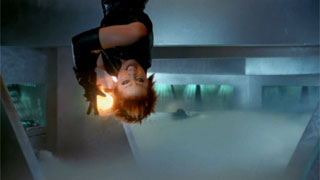 The show was unpredictable, never afraid to change its lead characters in drastic ways or explore the most bizarre implications of what they did and saw in their strange corner of the cosmos. And its visual effects, sets, and costumes were invariably terrific, whether gorgeous or grotesque. Farscape was a hit with critics and garnered a rabidly loyal cadre of fans, although -- SCI-FI execs were quick to point out amid the post-cancellation protests -- it never scored top ratings, and as the story grew it became less and less accessible to new viewers.
The hero of the show was John Crichton (Ben Browder), an astronaut from modern-day Earth whose experimental self-powered space shuttle got sucked unexpectedly into a wormhole and shot across the universe. Crichton fell in with a band of alien fugitives and exiles living aboard a living starship named Moya. Moya's band spent the next four years on the run from two rival (and equally brutal) interstellar empires, the humanlike Peacekeepers and the alien Scarrans, both of which wanted the secrets to wormhole travel that a mysterious race called The Ancients locked away in Crichton's brain.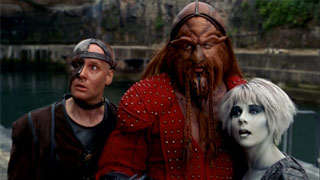 I could go on a lengthy tirade over the way SCI-FI handled Farscape, but we have plenty of those already. See "Crackers Do Matter," Caitlin Kiernan's exegis of the show and its powerful appeal, for instance, or Jayme Lynn Blaschke's remembrance of a viewing of the final episode.
In a nutshell, the Farscape team got word of the cancellation after they had finished photography on the final episode of the season, which ended on the mother of all cliffhangers: the lead hero and heroine blown literally to bits as -- no lie -- on-screen text says "To Be Continued." Of course, it wasn't.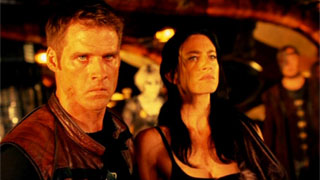 In late 2003 rumors started flying that SCI-FI was going to greenlight a Farscape miniseries that would tie up the monumental loose ends left by the show's unfortunate finale. In April 2004, they made the official announcement. And we started counting down to word of the miniseries' cancellation. You thought we were joking, didn't you?
Well, here we are. On October 17 and 18, 2004, Farscape: The Peacekeeper Wars is set to air on the SCI-FI Channel. I even have a review copy of the miniseries on DVD to prove it.
Maybe wisecracks do matter.
Back in Black
Farscape: The Peacekeeper Wars opens with squat alien emperor-in-exile Rygel (voiced by Jonathan Hardy) doing something he apparently was born to do but which we've never seen before -- swimming. (Let's hear it for a bountiful effects budget and the magic of CGI!) He's at the bottom of the sea where Crichton and Aeryn (Claudia Black) were blown to bits two months before, picking up the last pieces of them that he can find.
In modern medicine, many things are possible.
Before you know it, Crichton and Aeryn are back, still wearing their stylish black leather trenchcoats, and everyone is pointing guns at each other and talking very slowly to avoid getting them blown to bits all over again. Their hosts: The Eidelons, the aliens with the nasty wide-open faces who blasted them. Only now the aliens have their faces closed, thankfully, so they look quite human. And they may have a key to stopping the ever-escalating Peacekeeper-Scarran war -- their ancestors had the power to project an aura that calmed hostilities and encouraged negotiation. And some of those ancestors still live, on a planet discovered by Moya's crew not long ago.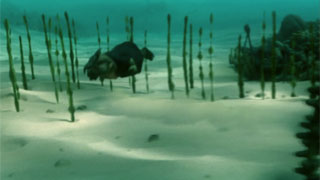 Naturally, things don't go according to plan. For one thing, Crichton's old enemy, the half-Peacekeeper, half-Scarran villain Scorpius (Wayne Pygram), ever obsessed with the possibility of using a wormhole as the ultimate weapon, senses that Crichton has returned to life and abandons his Peacekeeper post to find him. For another, the Scarrans have a spy that allows them to follow Crichton's every move. Plus, every time Crichton and Aeryn pause for five minutes to say wedding vows, someone starts dropping bombs on them.
Oh, and Rygel is now carrying Crichton and Aeryn's baby. Ain't love grand?
Peacekeepers, Do Your Duty
The Peacekeeper Wars is not a stand-alone miniseries by any means. Newcomers to Farscape will be lost from the first scene and will stay lost until the closing credits. This one is strictly for the fans: It takes the story that was developing at the end of season four and wraps it up in a two-part rush of action, desperation, and grief, without pausing to explain or even drop hints as to who's who and why they're being so weird. If you're not already a fan, prepare to be confused. But you might enjoy the action enough to go back to the earlier seasons on DVD.
If you are a fan, this is your chance to see Crichton, Aeryn, D'Argo (Anthony Simcoe), Chiana (Gigi Edley), Pilot (voiced by Lani Tupu), Moya -- and, yes, the insanely irritating Stark (Paul Goddard) -- one last time, along with all the villains that have pursued them.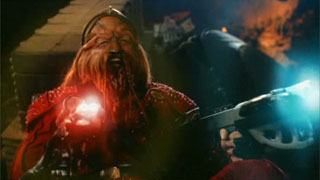 The Peacekeeper Wars was written by series creators Rockne S. O'Bannon and David Kemper, and they're at the top of their game. Some of the plotlines feel forced, with one or two events stretching credulity for the sake of moving the story along; but at least that means the story can move along at a relentless pace, keeping the suspense up while setting up the characters for what's going to come next: Rygel's status with his empire; the on-again, off-again romance between Chiana and D'Argo; Stark's inability to ever find peace with the voices of the dead in his head. Even D'Argo's sullen son Jothee (Nathaniel Dean) figures prominently in the action.
And, of course, there are Crichton and Aeryn, who spent years falling in love despite all odds only to have the future stripped away from them at every turn. What does the future hold now? I won't say, but the miniseries' climax is more spectacular and horrific than ever before on Farscape.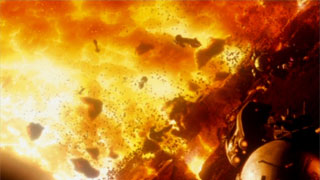 Farscape: The Peacekeeper Wars shouldn't have been necessary. If the last episode of season four had ended just a few seconds earlier, with Aeryn and Crichton smiling as he slid the ring on her finger, fans who had fallen in love with Farscape and its characters would have been left with a fitting close to the show's run. But we can be glad for what The Peacekeeper Wars offers: a few more hours with those beloved characters and the epic story that drove them, and -- strange as it may sound -- a sense of closure for their loss.
The story is finally over, and with The Peacekeeper Wars it goes out in true Farscape style: thrilling, heartbreaking, unpredictable, and altogether grand.