No Tights, No Flights : DC Comics TV Series Not Coming Soon To A TV Near You
© Jayme Lynn Blaschke
October 13, 2003

It should come as no surprise to anyone that following upon the overwhelming success of "Smallville," the critical acclaim of "Birds of Prey" and the tremendous fan response to news of a forthcoming "The Flash" television series that Warner Brothers is working hard to translate more DC Comics properties to the small screen.
Adhering closely to the tried and true "No tights, no flights" formula which prohibits characters from appearing at any time in costume or exhibiting any significant super-powers, the Warner Brothers production department has five -- count 'em -- FIVE fan-favorite properties set to be unveiled for the fall 2004 television series. Unfettered by continuity burdens or cheesy spandex, these bold, creative re-interpretations of classic characters are guaranteed to be embraced by old-school fans and newcomers alike.
Justice Society
When a close friend is wrongfully sentenced to death in the electric chair, four beautiful, high-powered New Gotham attorneys are outraged by this miscarriage of justice and vow revenge. Leaving their high-paying jobs behind, they band together to fight for the rights of the wrongfully oppressed. But they can't do it on their own, so they enlist the aid of a friendly-but-addled ex-wrestler, a crusty retired cop with a heart of gold and a precocious pre-teen girl from the wrong side of the tracks with street cred to spare and a finger on the pulse of the youth scene. Can this unlikely collection overcome their quirks and eccentricities to become an effective force for justice? They wouldn't be the Justice Society otherwise! Produced by David E. Kelley. Guest-starring Jeri Ryan as the Star-Spangled Kid.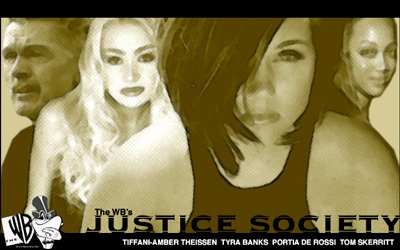 Welcome to the LSH
The year is 2010 -- the far future -- where advances in genetic engineering and prenatal science ensure everyone is one of the "beautiful people." It is here, in New Gotham, that angst-filled teen Lar Gand and his sister, Laurel, arrive from the backwaters of the Cairn galaxy. Immediately Lar runs afoul of the local clique at New Gotham High, a gang of in-crowd students calling themselves "The Khunds," led by jai-alai team captains Rokk Krinn and Querl Dox. However, Laurel and Querl quickly find themselves drawn to each other, despite their differences. Lar is soon befriended by a group of other social outcasts, led by nerdy senior Rond Vidar -- son of New Gotham's corrupt mayor -- and his wise-cracking, perpetually hungry friend Tenzil Kim. The future shows that teen angst, pensive stares and bodies sculpted by science to absolute perfection are an unbeatable combination. "This is absolutely not science fiction," explains executive producer Steven Bochco. "What we're doing is re-imagining the future. We're taking things as they are today, and speculating as to what they may become years from now. But in no way, shape or form is it something as crass as sci-fi."
Deadman
On his first day of work as a mafia bagman, 20-year-old Tim Drake is caught in a police ambush and shot dead. As he finds himself floating above his bloody, lifeless body, young Tim learns that he is but the latest in a long line of dead people. Charged by the feisty goddess Rama Kushna with righting the wrongs of his life before being freed to move on to his Just Reward, young Tim quickly discovers that the wrongs of his life are complicated and not entirely of his own doing. The ongoing criminal acts of Marco and Luigi Baritone, Intergang crime lords of New Gotham, are an anchor tying Tim to this world. His death was a setup, designed to discredit and disgrace New Gotham police detective James Gordon. To complicate matters, Gordon's beautiful daughter, Barbara, and Marco Baritone's daughter, Helena, are the only two people who can see Tim. Filled with angst, pensive stares and stylish black leather wardrobes. Guest-starring Aretha Franklin as Rama Kushna.
Hawk and Dove
College student Carter Hall's life is on a roll. Who'd have thought that someone from the tiny Caribbean island of Tanagar could ever land a coveted internship in high-powered Washington, D.C., working in the office of the Secretary of Defense, no less. Quickly Carter is draw into the inner workings of Washington, and has his eyes opened to the conspiracy of hostile forces trying to topple all that America stands for. Carter soon understands why "Strike early, strike often" is the only sensible policy for the United States. But Carter's beliefs are soon put to the test when he runs into the beautiful and curvaceous Shae Thal, a State Department intern. An alluring combination of beauty and brains, Shae believes "Speak softly and carry a big stick" diplomatic policy is best left as a legacy of the turn of the previous century. The two clash instantly but also find themselves strangely drawn to each other as well. Featuring teen angst, pensive looks and a no-holds-barred look at the Washington nightlife. Guest-starring Emilio Estevez as President Luthor.
A Separate Shazam!
At Sivana, a private boarding school for boys in New Hampshire, Freddie Freeman and Billy Batson are roommates and best friends. Freddie is the Golden Boy, liked by everyone, excelling at all sports. One day, overcome with a fit of jealousy, Billy pushes Freddie from a large oak tree. The fall breaks Freddie's leg severely, permanently crippling him. Horrified by what he'd done, Billy resolves to make it up to Freddie by being the best friend he could possibly be -- until Mary Bromfield arrives, beautiful niece of the cruel headmaster, Thaddeus Sivana. With both Freddie and Billy competing for Mary's affections, does friendship have any hope of surviving? Featuring teen angst, pensive looks and the ever-catchy "Hitler Has Only One Ball" song played over closing credits.