Sam Raimi Announces: Spider-Man Opening Weekend For "True Believers" Only
© Jason Myers

At a press conference on Saturday, April 27th, Spider-Man director Sam Raimi and Columbia Pictures announced an industry first.
"The opening weekend of Spider-Man will be reserved specifically for the fans. Or, to borrow Stan Lee's phrase, the true believers," Raimi said. "People who know nothing about the Spider-Man mythology, people who are just interested in seeing Spider-Man because it's a big summer movie, will not be allowed to buy tickets until Monday, May the 6th."
According to Columbia Pictures spokesman Andrew Kozma, moviegoers will be administered a quick ten-question quiz on the Spider-Man universe. "Those who miss more than three questions will be politely but firmly refused entrance to the film," said Kozma. After opening weekend, ticketing procedures will return to normal.
Something for the fans
"We're just trying to give something back to the fans," Raimi said. "Opening weekends have gotten a bit ridiculous in the last couple of years. The lines are long. The theaters are crowded. Contrary to popular belief, most comics fans have real jobs. They don't have time to stand in line for tickets a few days before the movie opens. They can't take three hours out of the middle of the day to speed-dial Moviefone in hopes of getting through. I'm a huge Spider-Man fan. And while I didn't make this movie just for the fans, I did make it primarily for them."
"The idea first came to me when I went to see The Fellowship of the Ring," Raimi explained. "I managed to get tickets for opening night, but I had to pull some strings. The theater was a mess. Five minutes into the movie, gaggles of teenagers were still milling around, trying to find seats.
"And it wasn't just that," Raimi continued. "I was appalled by how many people in the theater I talked to hadn't even read the books. Before the previews, I told the guy next to me a scientology joke with the punchline 'Elrond Hubbard', and he just stared at me blankly like I was speaking Elvish. But the girl behind him in a 'Wizard Needs Food Badly' t-shirt… she got the joke. I want people like her to get priority when Spider-Man opens."
"After the movie, when I heard some people complaining because Fellowship 'didn't even have a real ending', that was the last straw. I decided that Spider-Man would be different," said Raimi.
Keeping out the riff-raff
Columbia spokesman Kozma assured reporters that the questionnaire would cover basic, general knowledge Spider-Man questions.
"It's not going to be too esoteric," Raimi said. "Just enough to keep out the riff-raff. The people who answer that Uncle Ben is 'That guy who makes instant rice' are going to get the boot."
On the plus side, Kozma said, the first 300 people at each theater who answer all ten questions correctly will get a limited edition Spider-Man figure.
"We wanted to do a figure give-away," Raimi said, "but it's always hard to know how to handle giving those out. People got into fist-fights over those Jedi Luke figures, and we wanted to keep the bloodshed to a minimum."
Columbia's official announcement about Spider-Man's opening weekend confirmed information that has been circulating quietly in the industry for the last couple of weeks. When asked about speculation that the opening weekend policy was actually originated by Marvel Comics execs in an attempt to boost flagging sales of Marvel's Spider-Man titles, Raimi replied, "That's a rumor started by a few disgruntled movie critics, because they have to pass the exact same quiz before we let them into a press screening. That Ebert guy is still pissed because Roeper got to see the movie and he didn't."
"F*@# the box office"
Raimi was also asked if he thought his 'for true believers only' policy would hurt his film's opening weekend box-office numbers. Raimi replied, "F*@# the box-office."
Kozma laughed. "Initially, we were very reluctant to even consider Sam's idea. It's a big gamble. But fan support is important to this movie. We came to realize that the buzz this could generate will far outweigh any downside."
"In other words," Raimi said, "The suits at Columbia thought it would be good publicity. But so what? Most of them won't be allowed to see it opening weekend, either."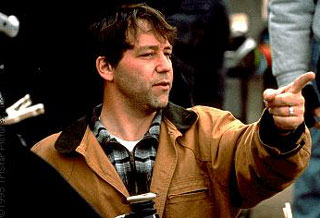 "F*@# the box office," says director Raimi.